Almaty and Turkistan cities combined tour /7 days/
SHORT DESCRIPTION
---
Turkistan, also spelled as Turkestan, is an ancient city with a rich history located in the southern part of Kazakhstan. It is one of the oldest cities in Central Asia and holds significant cultural and historical importance. 
Almaty, formerly known as Alma-Ata, is the largest city in Kazakhstan and serves as the country's cultural, economic, and financial hub. It is located in the southeastern part of the country, near the border with Kyrgyzstan, and is surrounded by the beautiful Zailiyskiy Alatau mountain range. Almaty is known for its stunning natural scenery, diverse cultural attractions, and modern amenities. 
Category: Cultural and Adventure tours
Available: Year around
Duration: 7 day, 7 night
Destination: Almaty region and South part of Kazakhstan
ESSENTIALS
---
GUIDE:
A knowledgeable and experienced guide will accompany the group throughout the journey, proficient in Chinese, English, or Russian languages. The guide, a native Kazakh, possesses in-depth local knowledge and is well-equipped to handle any requests, ensuring that your holiday becomes an unforgettable experience.
TRANSPORT:
For maximum comfort during touring days, the trip includes high-level, latest model, air-conditioned private 4WD vehicles. This ensures a smooth and enjoyable travel experience as you explore the diverse landscapes of Kazakhstan.
MEALS:
Dining experiences in Kazakhstan will feature fine American, European, and Central Asian cuisine at reputable restaurants. The country's diet, centered around mutton, beef, rice, and noodles, will form the basis of your meals. However, trail rations may include a variety of items such as vegetables, eggs, peanut butter, cheese, and, on occasion, yak!
TOUR PACKAGE PRICE
---
| | | | | | | | |
| --- | --- | --- | --- | --- | --- | --- | --- |
| Group size | 1 pax | 2-3 pax | 4-6 pax | 7-9 pax | 10-12 pax | 13-15 pax | More than 16 pax |
| Price/Per person | 2550$ | 1900$ | 1890$ | 1860$ | 1810$ | 1760$ | 1650$ |
| | | | |
| --- | --- | --- | --- |
| No | Include service | Exclude service | Include service of Meals |
| 1 | Vehicle with a driver. | Items of personal nature | Lunch, Dinner |
| 2 | English speaking guide | Beverages, alcoholic drinks, bar bills, laundry | Per day 3 bottle water for per person /1,5 liter/ |
| 3 | Airport shuttle | Travel and insurance | One time Kazakh traditional food  /Bes barmaq/ |
| 4 | Lunch, Dinner | International transportation |   |
| 5 | Museum tickets.  | Taxi |   |
| 6 | Accommodation/Tourist camps and Hotel/ | Optional activities |   |
| 7 | Domestic flight tickets | Single supplement /For Hotel or Tourist camp/ |   |
| 8 |   | Gratuity for the tour team |   |

TOUR ITINERARY
---
Day 1: Almaty City Tour
Upon your arrival in Almaty, you will be transferred to your hotel to settle in. Embark on a captivating sightseeing tour of Almaty, exploring iconic landmarks such as the Park of 28 Panfilov soldiers, the Ascension Cathedral, the Museum of Musical Instruments, and the vibrant Green Bazaar.
In the afternoon, venture into the picturesque Ili Alatau mountains, where you'll experience the allure of the Medeo skating rink and the Shymbulak mountain resort. As the day unfolds, soak in the beauty of the surrounding landscapes.
Cap off your evening with a visit to the Kok Tobe park, offering panoramic views of the city lights. Retire for the night in Almaty, where you can reflect on the day's adventures.
| | | | | |
| --- | --- | --- | --- | --- |
| Distance | Route | Drive time | Accommodation | Food |
| n/a | n/a | n/a | Hotel | Lunch, Dinner |
Day 2: Charyn Canyon
Embark on an exhilarating full-day excursion to the breathtaking Charyn Canyon, often dubbed the 'mini-Grand Canyon' for its awe-inspiring landscapes and dramatic rock formations.
Immerse yourself in the natural wonders as you explore the renowned Valley of Castles, a mesmerizing area within Charyn Canyon known for its unique and intricate rock structures. Traverse the winding paths, witness the play of light and shadows on the rugged terrain, and marvel at the deep canyons carved by the Charyn River over centuries.
This adventure offers not only a visual feast but also a chance to connect with the raw beauty of Kazakhstan's southeastern region. Prepare to be captivated by the geological wonders and the serene ambiance of Charyn Canyon, creating lasting memories of a truly remarkable full-day excursion.
| | | | | |
| --- | --- | --- | --- | --- |
| Distance | Route | Drive time | Accommodation | Food |
| 230km | Highway | 3 hours | Hotel or Tourist camp | Breakfast, Lunch, Dinner |
Day 3: Kolsay Lake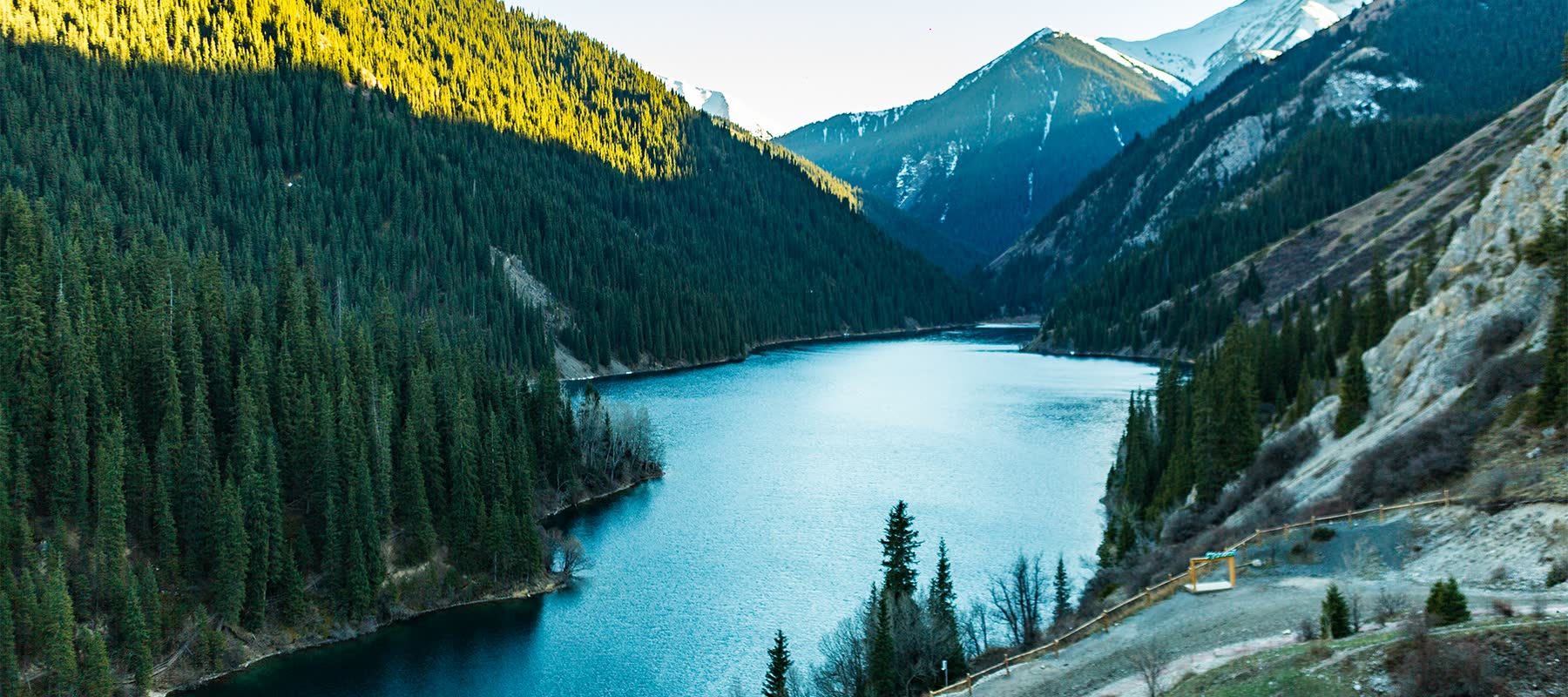 Embark on a captivating journey to explore the enchanting Kolsay Lakes, often celebrated as the 'Pearls of the Northern Tien Shan.' Delight in the exceptional natural beauty that characterizes this pristine destination, where crystal-clear waters mirror the surrounding lush forests and alpine meadows.
Take your time to immerse yourself in the serene surroundings, savoring the tranquility that blankets the Kolsay Lakes. Whether you choose to stroll along the lakeshores, breathe in the crisp mountain air, or simply absorb the breathtaking vistas, each moment promises to be a true connection with nature.
As the day unfolds, prepare to embrace the peaceful ambiance of Saty village, where you will find a welcoming haven for the night. The overnight stay in Saty village offers a unique opportunity to reflect on the day's discoveries and to be embraced by the warmth of Kazakh hospitality amid the natural wonders that define the Kolsay Lakes region
| | | | | |
| --- | --- | --- | --- | --- |
| Distance | Route | Drive time | Accommodation | Food |
| 230km | Highway | 3 hours | Hotel or Tourist camp | Breakfast, Lunch, Dinner |
Day 4: Flight to Shymkent
Embark on a morning flight to the vibrant city of Shymkent, a destination of republican significance and rich cultural heritage, nestled near the Uzbekistan border. As the third-most populous city in Kazakhstan, Shymkent boasts a dynamic atmosphere and a unique blend of historical and modern elements.
Upon arrival, relish the freedom of exploring Shymkent at your own pace during your free time. Whether wandering through its bustling streets, visiting local attractions, or indulging in the diverse culinary scene, Shymkent invites you to discover its charms.
As the day concludes, find comfort and repose in your overnight accommodation in Shymkent, ready to continue your exploration of this captivating city the following day
| | | | | |
| --- | --- | --- | --- | --- |
| Distance | Route | Drive time | Accommodation | Food |
| 800km | Air road | 2 hours | Hotel | Breakfast, Lunch, Dinner |
Day 5: Turkistan City via Otyrar City and Arstan Bab Mausoleum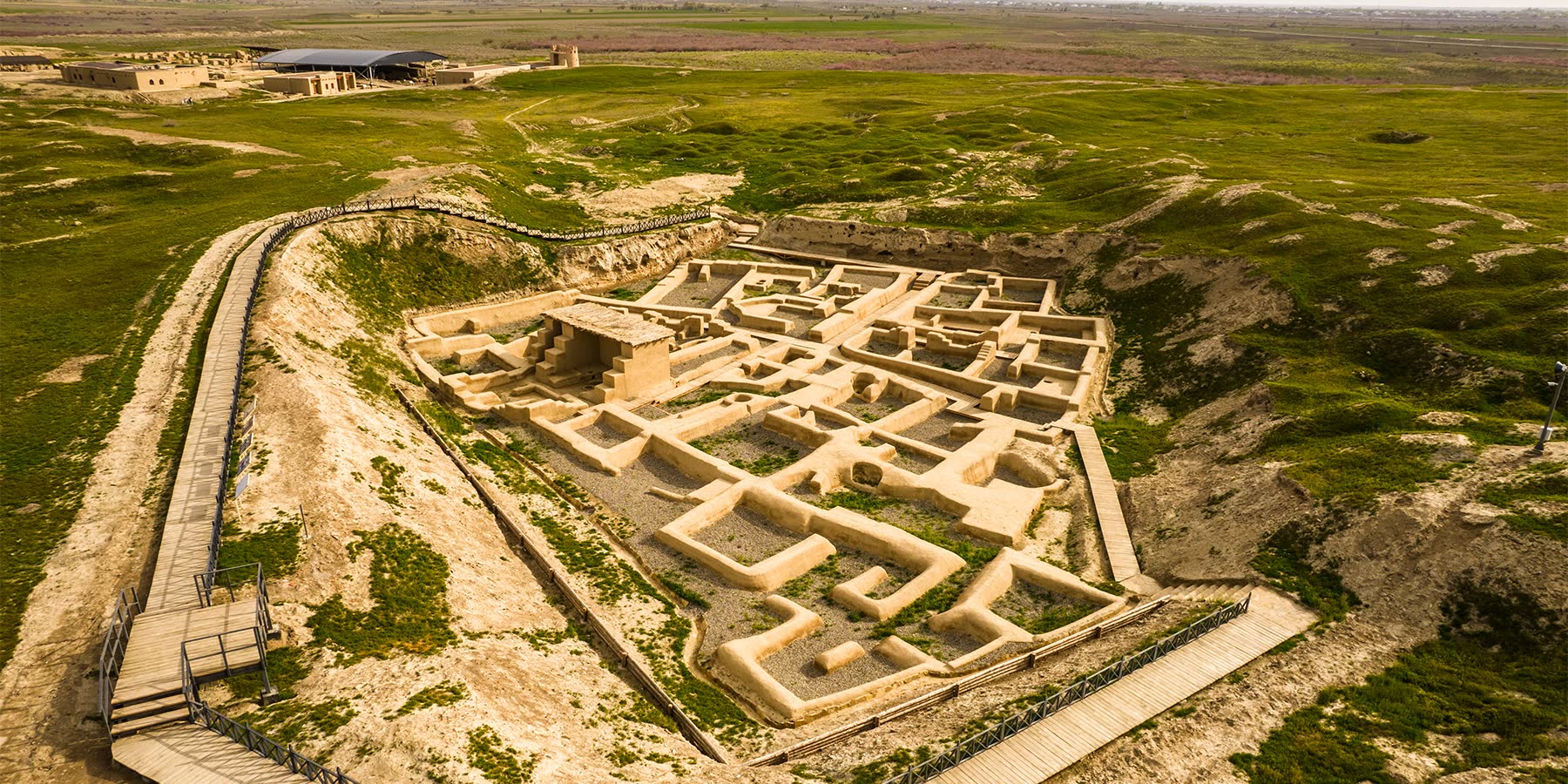 Embark on a fascinating excursion to the ancient city of Otyrar, a historical and archaeological marvel that stood as a key player along the legendary Silk Road. Explore the remnants of this once-bustling city, delving into its rich history and cultural significance. The highlight of your visit includes a journey to the Arstan Bab Mausoleum, an architectural gem steeped in the tales of the past.
Following your exploration of Otyrar, your journey continues to the culturally significant city of Turkistan, where history and modernity seamlessly converge. As the day unfolds, immerse yourself in the unique charm of Turkistan, a city that holds the key to the region's cultural narrative.
As night falls, find reprieve and rest in Turkistan, where your overnight stay promises a tranquil interlude amid the historical tapestry of southern Kazakhstan.
| | | | | |
| --- | --- | --- | --- | --- |
| Distance | Route | Drive time | Accommodation | Food |
| 200km | Highway | 2 hours | Hotel | Breakfast, Lunch, Dinner |
Day 6: Turkistan City, Keruen Saray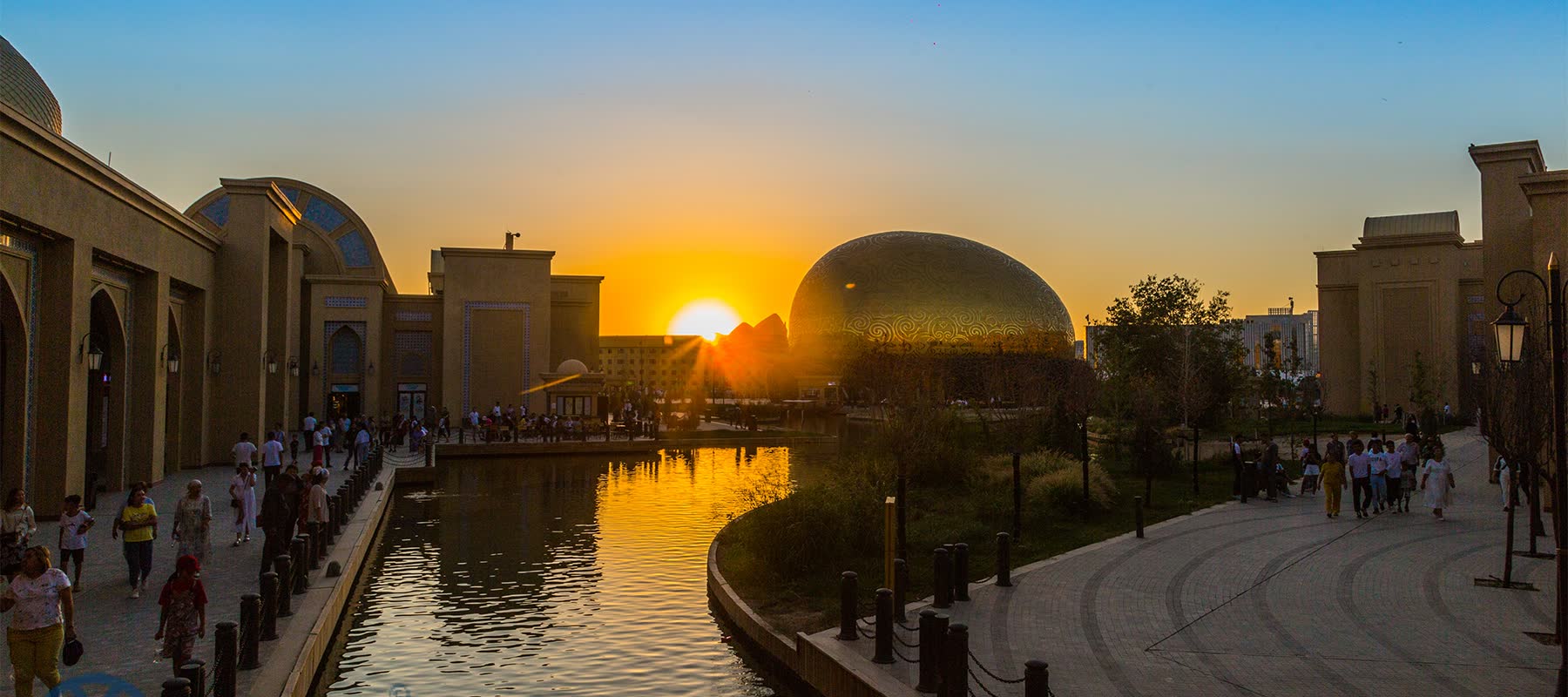 Spend a captivating full day in the ancient city of Turkistan, a historical gem with roots that extend deep into Central Asia's past. Immerse yourself in the rich cultural and historical tapestry that defines this venerable city.
The day's itinerary includes a visit to the Mausoleum of Khodja Ahmet Yassawi, an architectural masterpiece and a symbol of spiritual significance. Explore the intricate details of this revered mausoleum, where history comes to life in the form of stunning art and design.
Continue your journey through Turkistan with a visit to Keruen Saray, where the modern and traditional elements of the city converge. This cultural hub provides insights into the contemporary dynamics of Turkistan, offering a well-rounded experience of the city's identity.
As the day comes to a close, find solace and comfort in your overnight stay in Turkistan, surrounded by the echoes of centuries-old stories and the enduring legacy of this ancient city.
| | | | | |
| --- | --- | --- | --- | --- |
| Distance | Route | Drive time | Accommodation | Food |
| 200km | Highway | 2 hours | Hotel | Breakfast, Lunch, Dinner |
Day 7: Flight back to Almaty City
Following your morning flight, you'll have the day at your leisure to explore this vibrant city. Enjoy the freedom to discover Almaty's highlights, from cultural sites to scenic landscapes. As the day unfolds, take in the unique blend of modernity and tradition that defines Almaty. Your overnight stay ensures you're well-rested for the adventures that lie ahead
| | | | | |
| --- | --- | --- | --- | --- |
| Distance | Route | Drive time | Accommodation | Food |
| 900km | Air road | 2 hours | Hotel | Breakfast, Lunch, Dinner |
Day 8: Departure
As your Almaty journey concludes, you have free time to relax or engage in last-minute activities. Whether you choose to explore a bit more of the city, do some shopping, or simply unwind, make the most of your remaining moments in Almaty. Later, our team will arrange for your departure, ensuring a smooth transition to your next destination. We appreciate your visit and hope you had a memorable experience in Almaty. Safe travels
| | | | | |
| --- | --- | --- | --- | --- |
| Distance | Route | Drive time | Accommodation | Food |
| n/a | n/a | n/a | n/a | Breakfast |