Almaty city - Shymbulak and Medeo resorts day tour
SHORT DESCRIPTION
---
A day tour that combines visits to Kok-Tobe, Shymbulak, and Medeo resorts offers an exciting and comprehensive exploration of some of the most prominent attractions near Almaty, Kazakhstan. Here's an overview of what you can expect from this tour:
Category: Short and Day tour
Available: Year around
Duration: Full day
Destination: Almaty region
ESSENTIALS
---
GUIDE:
A knowledgeable and experienced guide will accompany the group throughout the journey, proficient in Chinese, English, or Russian languages. The guide, a native Kazakh, possesses in-depth local knowledge and is well-equipped to handle any requests, ensuring that your holiday becomes an unforgettable experience.
TRANSPORT:
For maximum comfort during touring days, the trip includes high-level, latest model, air-conditioned private 4WD vehicles. This ensures a smooth and enjoyable travel experience as you explore the diverse landscapes of Kazakhstan.
MEALS:
Dining experiences in Kazakhstan will feature fine American, European, and Central Asian cuisine at reputable restaurants. The country's diet, centered around mutton, beef, rice, and noodles, will form the basis of your meals. However, trail rations may include a variety of items such as vegetables, eggs, peanut butter, cheese, and, on occasion, yak!
TOUR PACKAGE PRICE
---
| | | | | | | | |
| --- | --- | --- | --- | --- | --- | --- | --- |
| Group size | 1 pax | 2-3 pax | 4-6 pax | 7-9 pax | 10-12 pax | 13-15 pax | More than 16 pax |
| Price/Per person | 300$ | 200$ | 190$ | 180$ | 170$ | 160$ | 150$ |
| | | | |
| --- | --- | --- | --- |
| No | Include service | Exclude service | Include service of Meals |
| 1 | Vehicle with a driver. | Items of personal nature | Lunch, Dinner |
| 2 | English speaking guide | Beverages, alcoholic drinks, bar bills, laundry | Per day 3 bottle water for per person /1,5 liter/ |
| 3 | Airport shuttle | Travel and insurance | One time Kazakh traditional food  /Bes barmaq/ |
| 4 | Lunch, Dinner | International transportation |   |
| 5 | Museum tickets.  | Taxi |   |
| 6 |   | Optional activities |   |
| 7 |   | Accommodation/Tourist camps and Hotel/ |   |
| 8 |   | Gratuity for the tour team |   |

TOUR ITINERARY
---
Kok-Tobe Hill

Your tour begins with a visit to Kok-Tobe, a scenic hill that offers breathtaking panoramic views of Almaty and its surroundings. The highlight is the observation deck where you can capture stunning photographs of the city against the backdrop of the majestic Tian Shan Mountains. You'll also have the opportunity to explore the Kok-Tobe park, which features winding paths, entertainment, and even a monument dedicated to "The Beatles."
Shymbulak Ski Resort
After Kok-Tobe, your journey takes you to the renowned Shymbulak Ski Resort, also known as Chimbulak. Located in the Zailiyskiy Alatau mountain range, this resort is a winter sports haven. You can expect to find ski slopes suitable for various skill levels, from beginners to advanced skiers and snowboarders. The resort's modern facilities, ski lifts, and equipment rentals make it an excellent place to enjoy snow-related activities.
Medeo Skating Rink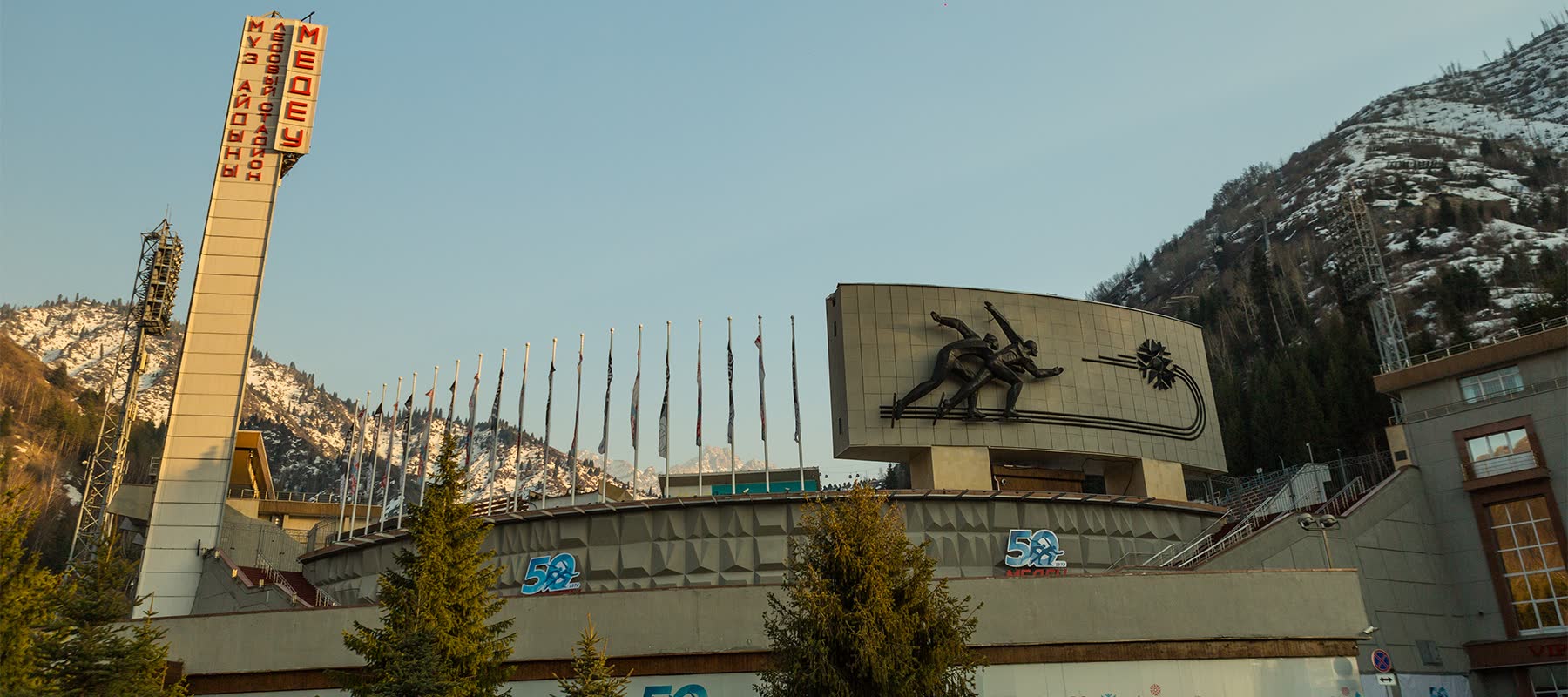 Your day tour continues with a visit to the Medeo Skating Rink. This high-altitude rink is situated in a picturesque mountain setting and is surrounded by the stunning Trans-Ili Alatau mountains. It's renowned as the highest high-mountain skating rink in the world. The visit to Medeo often includes an opportunity to witness the Medeo dam, which serves as protection against destructive mudflows from the mountains.
Cable Car Rides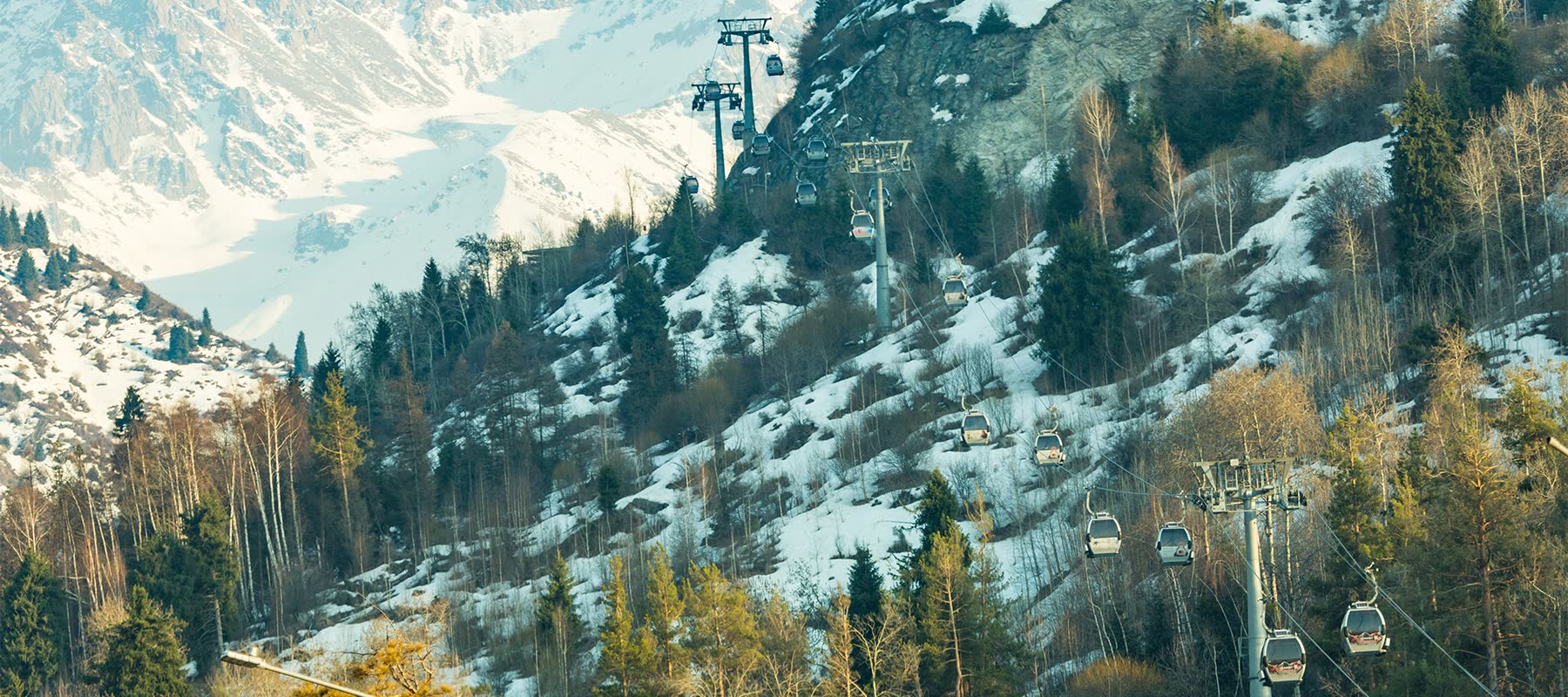 Throughout the tour, you'll have the chance to experience cable car rides, which provide you with unique and elevated perspectives of the landscapes. The cable cars are a thrilling way to traverse the mountainous terrain and soak in the breathtaking views.
This day tour is a fantastic way to explore the natural beauty, outdoor activities, and cultural attractions that Almaty and its surroundings have to offer. It caters to both nature enthusiasts and adventure seekers, making it an ideal option for travelers looking to experience the best of the region in a single day.