SHORT DESCRIPTION
---
Upon booking your tour, your knowledgeable guide and skilled driver will be ready to greet you in the lobby of your hotel. Your Astana exploration begins with a visit to Independence Square, where you'll be captivated by the enchanting fountains and the awe-inspiring 91-meter-high, snow-white Kazakh Eli stele. This symbol of Kazakh nationhood stands tall, making for a striking sight.
Category: Short and Day tour
Available: Year around
Duration: Full day
Destination: Astana city
ESSENTIALS
---
GUIDE:
A knowledgeable and experienced guide will accompany the group throughout the journey, proficient in Chinese, English, or Russian languages. The guide, a native Kazakh, possesses in-depth local knowledge and is well-equipped to handle any requests, ensuring that your holiday becomes an unforgettable experience.
TRANSPORT:
For maximum comfort during touring days, the trip includes high-level, latest model, air-conditioned private 4WD vehicles. This ensures a smooth and enjoyable travel experience as you explore the diverse landscapes of Kazakhstan.
MEALS:
Dining experiences in Kazakhstan will feature fine American, European, and Central Asian cuisine at reputable restaurants. The country's diet, centered around mutton, beef, rice, and noodles, will form the basis of your meals. However, trail rations may include a variety of items such as vegetables, eggs, peanut butter, cheese, and, on occasion, yak!
TOUR PACKAGE PRICE
---
| | | | | | | | |
| --- | --- | --- | --- | --- | --- | --- | --- |
| Group size | 1 pax | 2-3 pax | 4-6 pax | 7-9 pax | 10-12 pax | 13-15 pax | More than 16 pax |
| Price/Per person | 250$ | 200$ | 190$ | 180$ | 170$ | 160$ | 150$ |
| | | | |
| --- | --- | --- | --- |
| No | Include service | Exclude service | Include service of Meals |
| 1 | Vehicle with a driver. | Items of personal nature | Lunch, Dinner |
| 2 | English speaking guide | Beverages, alcoholic drinks, bar bills, laundry | Per day 3 bottle water for per person /1,5 liter/ |
| 3 | Airport shuttle | Travel and insurance | One time Kazakh traditional food  /Bes barmaq/ |
| 4 | Lunch, Dinner | International transportation |   |
| 5 | Museum tickets.  | Taxi |   |
| 6 |   | Optional activities |   |
| 7 |   | Accommodation/Tourist camps and Hotel/ |   |
| 8 |   | Gratuity for the tour team |   |

TOUR ITINERARY
---
Bayterek Tower
Start your adventure with a visit to the famous Bayterek Tower. This towering monument, often considered a symbol of Nur-Sultan, offers breathtaking panoramic views of the city from its observation deck.
The Bayterek Tower is an iconic monument and observation tower located in Nur-Sultan, the capital of Kazakhstan. This towering structure is not only a symbol of the city but also an architectural masterpiece. Some key features and facts about the Bayterek Tower include:
Architectural Significance: Designed by the renowned British-Iraqi architect Norman Foster, the Bayterek Tower is a striking example of modern architectural design.
Symbolism: The tower represents a Kazakh mythological tree of life, Samruk, and a golden bird, Baiterek, which is said to lay the cosmic egg of life.
Height: The tower stands at a height of 97 meters (318 feet) and has an observation deck at the top that provides visitors with breathtaking panoramic views of Nur-Sultan.
Golden Sphere: At the top of the tower, there is a golden sphere that represents the sun and is known as the "Egg of the Giant Bird." Visitors can place their handprints in the sphere, which is believed to bring good luck.
Presidential Handprint: The tower also features a handprint of Nursultan Nazarbayev, Kazakhstan's first President, who inaugurated the tower.
Cultural Center: The tower houses a cultural and entertainment center, featuring exhibitions, a museum, and interactive displays that provide insights into the history and culture of Kazakhstan.
Tourist Attraction: The Bayterek Tower is one of the most popular tourist attractions in Nur-Sultan and is often included in city tours. Visitors can take an elevator to the observation deck for panoramic views of the city.
Kazakh Independence: The Bayterek Tower has become a symbol of Kazakhstan's independence and is a significant landmark for both residents and visitors.
Overall, the Bayterek Tower is a must-visit destination for those exploring Nur-Sultan, offering a blend of cultural symbolism, architectural beauty, and stunning vistas of the city.
The Nur-Astana Mosque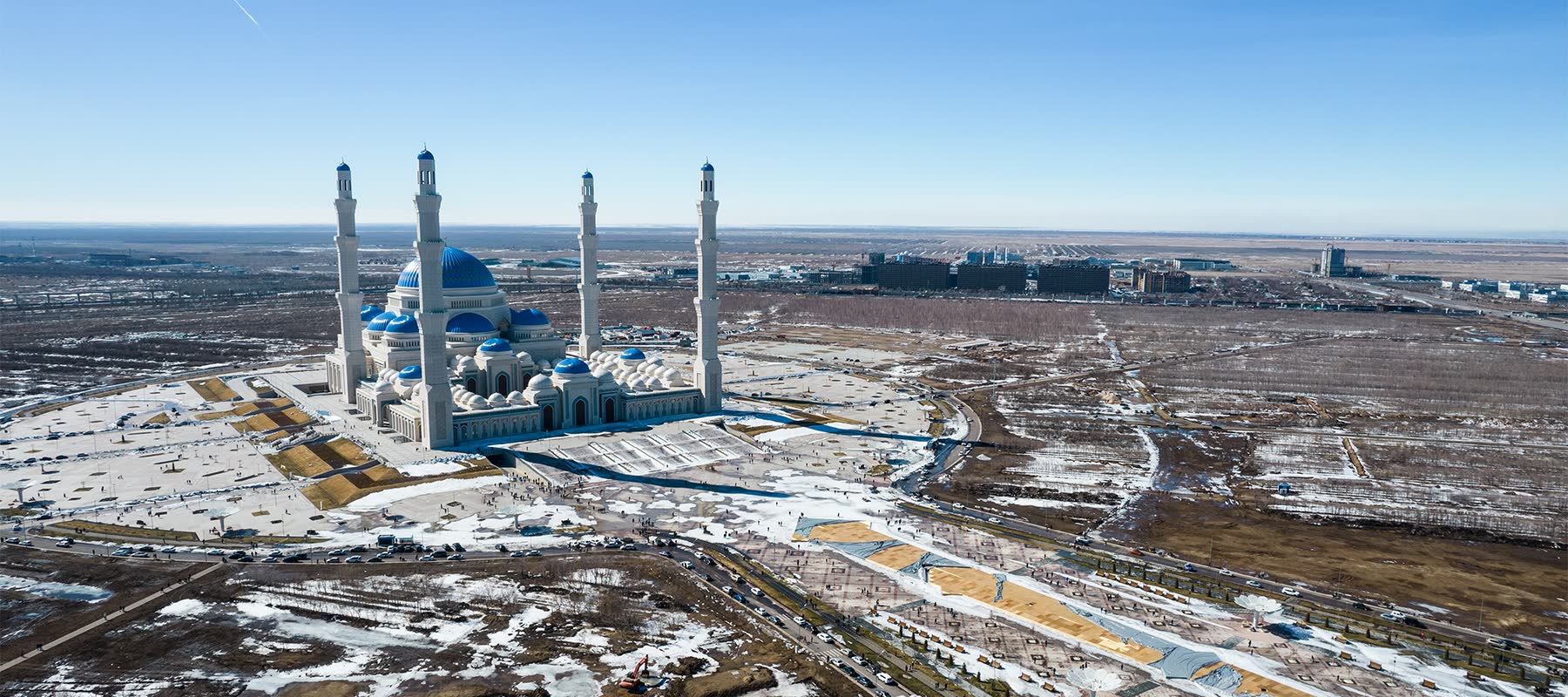 Explore the stunning Nur-Astana Mosque, a magnificent example of Islamic architecture, featuring intricate designs and serene prayer spaces. 
The Nur-Astana Mosque, also known as the Nur-Astana Islamic Center, is a prominent mosque located in Nur-Sultan, the capital of Kazakhstan. This mosque is known for its grand and intricate Islamic architecture, making it a significant religious and cultural landmark in the city. It serves as a place of worship for the Muslim community in Nur-Sultan and is a testament to the city's cultural diversity and religious tolerance. The mosque's name, "Nur-Astana," reflects the city's previous name, Astana, which was changed to Nur-Sultan in honor of Kazakhstan's first President Nursultan Nazarbayev. The mosque is not only a place of prayer but also a symbol of peace and unity in the capital.
Khan Shatyr Entertainment Center
Discover the innovative Khan Shatyr, a massive transparent tent-like structure that houses shopping centers, entertainment venues, and even a tropical beach.
The Khan Shatyr Entertainment Center is a distinctive and innovative architectural structure located in Nur-Sultan, Kazakhstan. Here are some key details about this remarkable entertainment and shopping complex:
Unique Design: Khan Shatyr is recognized for its striking and unconventional design. It takes the form of a transparent tent or a yurt, a traditional Kazakh nomadic dwelling, but on a grand scale. The structure is made of a transparent material that allows natural light to filter in.
Massive Size: The Khan Shatyr Entertainment Center is one of the largest tent-like structures in the world. It spans an impressive area of 140,000 square meters (1.5 million square feet).
Diverse Offerings: Inside the complex, you'll find a wide range of entertainment and shopping options. It houses numerous retail stores, boutiques, restaurants, cafes, and even a beach area with sand and water attractions.
Indoor Beach: One of its most unique features is the artificial beach with a temperature-controlled environment. Visitors can enjoy a beach experience, complete with palm trees and a water park, regardless of the outdoor weather conditions.
Entertainment Facilities: Khan Shatyr offers a variety of entertainment facilities, including a mini-golf course, a cinema, an IMAX theater, and an indoor go-kart track.
Cultural Events: The center occasionally hosts cultural and entertainment events, making it a hub for various activities and performances.
Year-Round Attraction: The transparent structure provides an indoor environment that can be used year-round, making it a popular destination during both the warm summer months and the cold Kazakh winters.
Landmark of Nur-Sultan: Khan Shatyr is a well-known landmark in Nur-Sultan and is often included in city tours. Its unique design and diverse offerings make it a popular destination for locals and tourists alike.
Khan Shatyr Entertainment Center offers a distinctive blend of shopping, entertainment, and leisure activities in a one-of-a-kind architectural setting, adding to the cultural and recreational appeal of Nur-Sultan.
The National Museum of Kazakhstan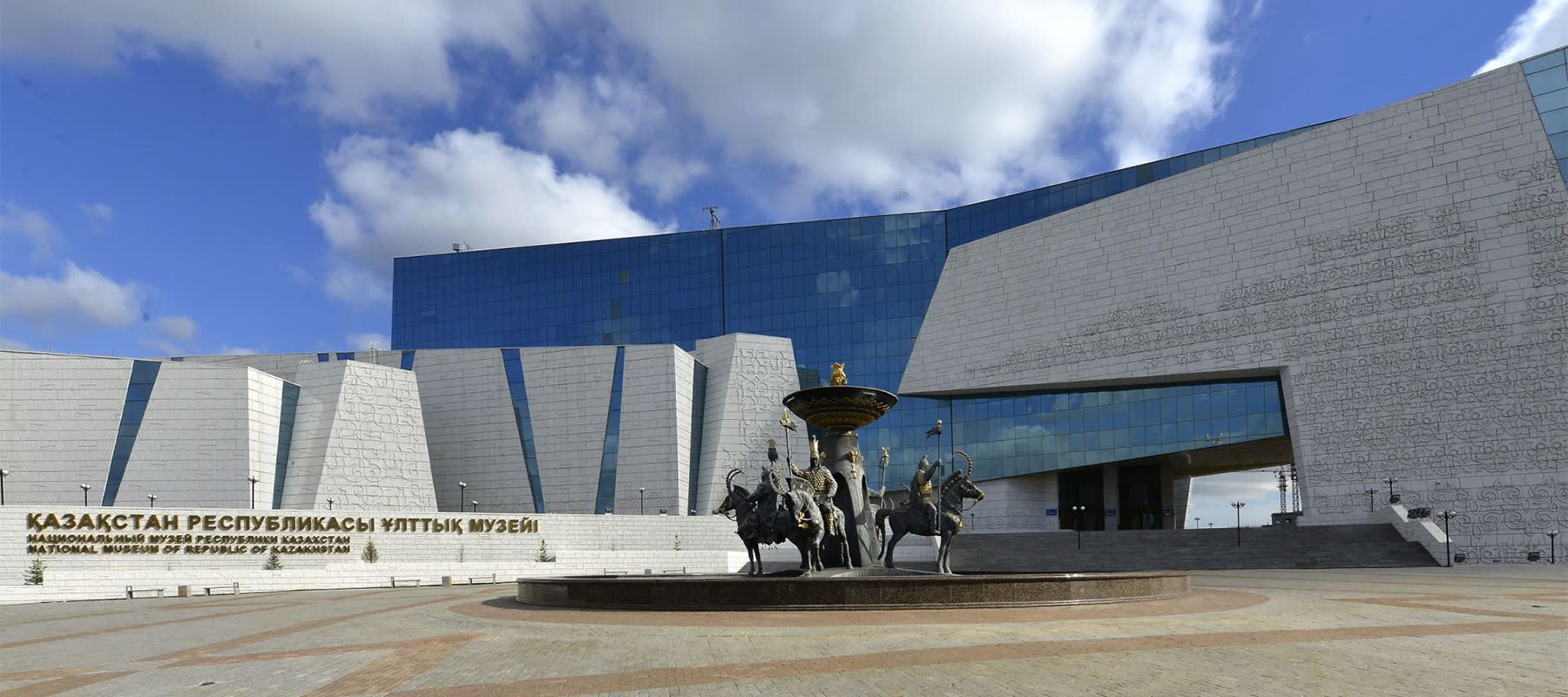 The National Museum of Kazakhstan, known as "Qazaqstan Memlekettik Muzeyi" in Kazakh, is the country's largest museum and a prominent cultural institution. Here are some key details about the National Museum of Kazakhstan:
Location: The museum is located in Nur-Sultan, the capital of Kazakhstan, in the city's center. It is a significant landmark and cultural hub in the city.
History: The National Museum of Kazakhstan was established in 2014 and opened to the public in a new purpose-built facility. It was created by merging two previous museums: the Museum of Kazakhstan and the Museum of Arts of the Republic of Kazakhstan.
Architectural Significance: The museum building itself is an architectural masterpiece. It features a distinctive, futuristic design with a blue glass dome and a white column-like structure, symbolizing the unity of Kazakhstan's past and future.
Exhibitions: The museum's extensive collections cover a wide range of topics, including Kazakhstan's history, culture, art, and natural history. The exhibitions explore the nation's heritage and its role in the global context.
Halls and Galleries: The museum is divided into various halls and galleries, each dedicated to specific themes, such as the history of Kazakhstan, ethnography, archaeology, and fine arts. Visitors can explore the nation's past, from ancient civilizations to modern times.
Kazakh Gold: One of the highlights of the museum is the "Kazakh Gold" exhibition, which showcases the country's rich history of gold mining and craftsmanship.
Educational Center: The National Museum of Kazakhstan serves as an educational and cultural center, offering educational programs, lectures, and events for both locals and tourists.
Cultural Events: The museum occasionally hosts cultural events, exhibitions, and performances, making it a vibrant cultural hub in Nur-Sultan.
Panoramic View: The museum building includes an observation deck at the top, offering panoramic views of the city and the surrounding area.
The National Museum of Kazakhstan is not only a repository of the country's heritage but also a symbol of its commitment to preserving and promoting its cultural and historical identity. It is a must-visit destination for those interested in exploring the rich and diverse history of Kazakhstan.